---
Sugar Market Commentary:
General Comments:

Both markets closed higher for the week despite lower prices on Friday. Overall charts trends are trying to turn up for the medium term in New York but are sideways in London. Reports indicate that little is on offer from India. Thailand might also have less this year due to reduced planted area and erratic rains during the monsoon season. There is still more than enough Sugar for any demand and that India will have to sell sooner or later. Reports from India indicate that the country is seeing relatively good growing conditions and still holds large inventories from last year. However, these supplies are apparently not moving and this could be due to less government subsidy for mills and exporters. Reports of improving weather in Brazil imply good crops there. The Real has been trading near recent lows against the US Dollar and this should encourage export sales from Brazil as well. ABIOVE showed a big increase in cane processing in the last two weeks so the industry is ramping up to sell both Sugar and Ethanol.

Overnight News:

Brazil will get scattered showers this week and dry weather this weekend. Scattered showers are forecast for next week. Temperatures should be near to above normal.

Chart Trends:

Trends in New York are up with objectives of 1310 March. Support is at 1260, 1240, and 1230 March, and resistance is at 1290, 1300, and 1320 March. Trends in London are mixed. Support is at 333.00, 331.00, and 327.00 March, and resistance is at 340.00, 345.00, and 348.00 March.
London Sugar # 5 Closing

Month
Settle
Change
High
Low
Total Vol.
Dec 19
344.90
1.7
346.50
342.50
3959.00
Mar 19
347.80
2.1
349.40
345.20
1598.00
May 20
352.50
2
354.10
350.30
462.00
Aug 20
356.30
2.2
357.60
354.60
25.00
Oct 20
361.30
1.4
363.00
360.50
3.00
Dated: November 29, 2019
Source: ICE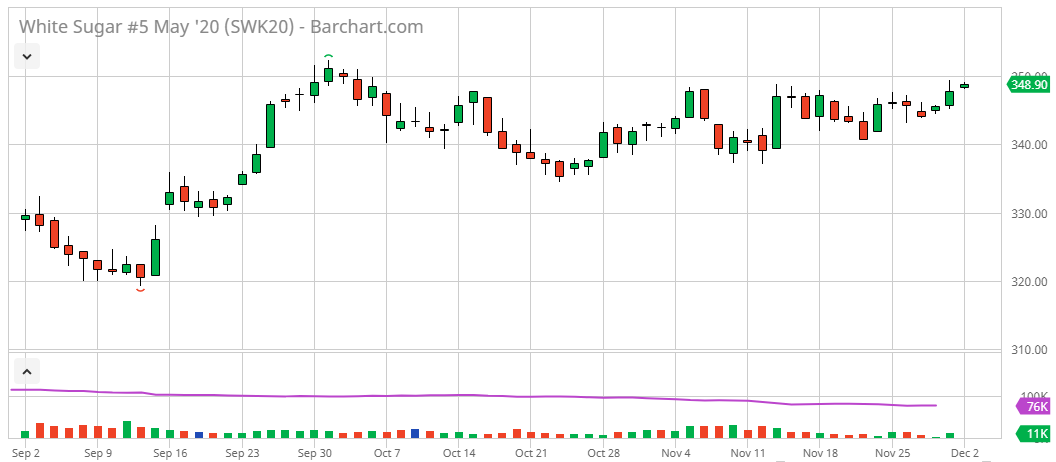 ---
London Sugar # 11 Closing

Month
Settle
Change
High
Low
Total Vol.
Mar 20
12.94
0.15
13.01
12.78
65447.00
May 20
12.98
0.12
13.04
12.86
24579.00
Jul 20
13.03
0.11
13.08
12.92
18537.00
Oct 20
13.20
0.11
13.25
13.09
12778.00
Mar 21
13.69
0.09
13.74
13.60
5438.00
Dated: November 29, 2019
Source: ICE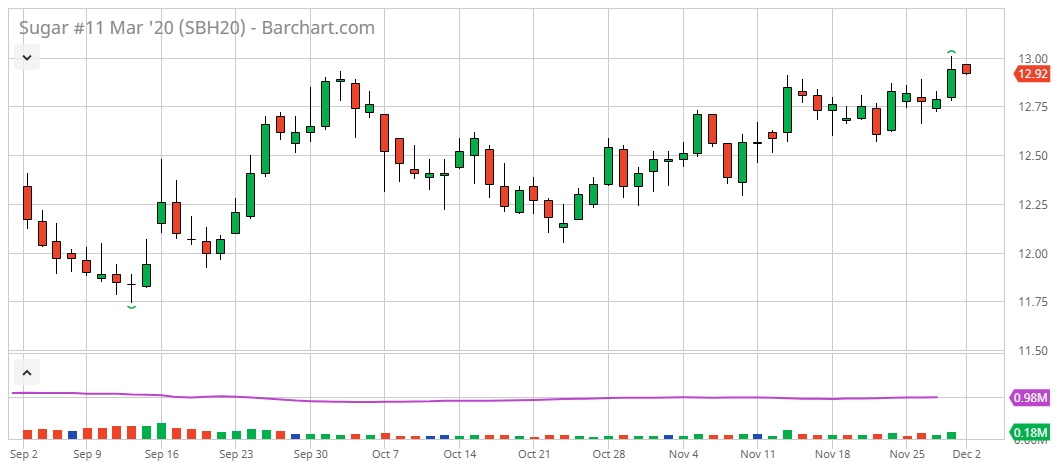 Sugar # 5 Commentary:
occurring during an uptrend, this pattern characterized by a large black real body, which engulfs a white real body (it doesn't need to engulf the shadows). This signifies that the uptrend has been hurt and the bears may be gaining strength. The Engulfing indicator is also the first two candles of the Three Outside patterns. It is a major reversal signal. Factors that are increasing this signal's reliability: 1) The first candlestick has a very small real body and the second candlestick a very large real body. 2) The pattern appears after a protracted or very fast move. 3) Heavy volume on the second black candlestick. 4) The second candlestick engulfs more than one real body.
---
Sugar # 11 Commentary:
During an uptrend, three long black candles occur with consecutively lower closes. This pattern suggests that the market has been at a high price for too long, and investors are beginning to compensate for it. More significant if it appears after a mature advance.
---
India Sugar News
PUNE: The food ministry's latest notification allowing India's sugar producers to convert surplus stocks into ethanol to be blended with petrol comes as an additional support measure for the industry.However, mills in Uttar Pradesh, the top sugar-producing state, are not keen on converting old stocks to ethanol. In Maharashtra, they are undecided about the benefits of the scheme, even though the state's sugar industry had pushed for permission to convert old sugar into ethanol. The Sugarcane (Control) Amendment Order, 2019, dated November 19, allows only sugar factories to convert sugar, sugary syrup and sugarcane juice directly into ethanol. According to the amendment, every 600 litres of ethanol so produced will be considered equivalent to one tonne of sugar.

The government issued the order after the Maharashtra Cooperative Sugar Factories Federation (Sakharsangh) and the National Cooperative Sugar Factories Federation pursued the matter. "Converting the old stock of sugar into ethanol may not be a prudent decision financially, but it is a wise business decision," said Sanjay Khatal, managing director of Sakharsangh. Mill incur a cost of Rs 6-7/kg to convert sugar into ethanol, which the government will buy at Rs 59.48/litre, and their realisation will be equivalent to the prevailing sugar price of Rs 31.50/kg.
---
Global Sugar News
ICE white sugar prices edged up on Thursday in quiet, holiday thinned trade, as funds continued to scale back short positions, though producer selling of excess stocks capped gains. Sugar, coffee and cocoa markets on ICE Futures US were closed for the Thanksgiving holiday. March white sugar was up $1.40, or 0.4%, at $343.00 a tonne at 1321 GMT. Fund short-covering amid tightening supplies has helped lift sugar in recent weeks, but high stocks in India and a weakening real in Brazil are keeping a firm cap on gains.

The real hit its lowest ever level versus the dollar on Tuesday, raising the value of dollar-priced sugar in local currency terms and tempting producers to sell. The International Sugar Organization on Tuesday raised its forecast for a projected global sugar deficit in the 2019/20 season to 6.12 million tonnes from 4.76 million previously. The inter-governmental body also said preliminary indications suggested a global deficit of 3.5 million tonnes for 2020/21. March robusta rose $5, or 0.3%, to $1,406 a tonne, having hit its highest since early July on Tuesday. The harvest in Vietnam, the world's top robusta producer, has kept coffee bean supply steady, while trading in Indonesia remained subdued on low stockpiles. March London cocoa was up 5 pounds, or 0.3%, at 1,905 a tonne. There is some concern in the market about nearby supply tightness, with port arrivals in top producer Ivory Coast running behind last year's pace.
---